Archive for the 'Cut Flower Care' Category
Comments Off on The perfect wedding bouquet
Spring is wedding season and flowers are an important part of the big day. The tradition of carrying a bridal bouquet is meant to bring good fortune and prosperity to the bride.
How do you choose the perfect bouquet? Here are three things to consider before talking to your florist:
Style: Select flowers that reflect your style and personality – are you classic, modern or bohemian? Colour: Choose flowers to compliment your invitations, bridesmaid dresses and reception décor. Budget: Be clear on how much you're willing to spend and choose flowers that are in season.
Contact our expert team today for all your wedding flower needs!
Comments Off on October birth flower – Marigold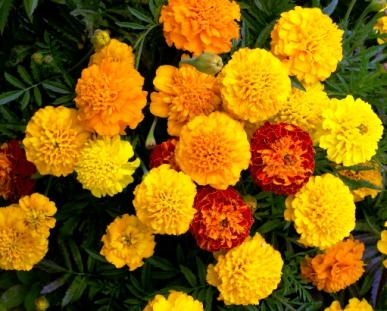 October's birth flower is the Marigold – symbolising elegance and devotion. Also known as Calendula, this vibrant yellow and orange flower is used in Indian wedding ceremonies and festivals, and in Mexico for the Day of the Dead celebrations.
Cut Marigolds will last at least a week if properly maintained, and are perfect as part of a larger bouquet or arrangement, with lots of purple and white blooms and green foliage.
Did you know: Marigolds are edible and sometimes used in food as a substitute for saffron? The Marigold's strong scent is also used as natural mosquito and fly repellent!